Rita Lekhi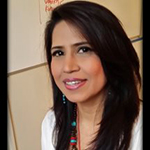 Rita Lekhi arrived as a high fashion designer when she was 18— at Zedds, her family's ready-to-wear women's clothing business in India. She holds a Bachelor of Commerce degree, but has an intense penchant for fashion and design— especially fabric and embroidery. High fashion design kept her engaged for 14 hours a day then; she takes pride in never having worked a day until now.

Rita moved to Canada in 1994 and launched Zedds Boutique in Mississauga, Toronto with just 25 wedding and special occasion dresses she had brought with her from India. The Indian fraternity in Canada fell in love with the diffusion line's impeccable design and intense craftsmanship- especially the beautiful bridal lehengas and a range of designer wedding outfits. Her clientele has grown steadily since then. She attributes the great rapport with clients to an honest orientation towards customer service; she believes the integrity towards customer service leads to repeat business and— that belief has reaped rewards.

Bridal wear design is of special interest to Rita and her words exude passion: "I feel special to be a part of the bride's most important day. I understand their psyche and spend hours helping them choose their wedding attire— to make them look ravishing for the occasion."

She frequents India to learn the current trends and the keen interest keeps her on her toes. Her repertoire has expanded to bridal wear, wedding dresses, party wear and contemporary casuals; she intends to expand her client base by continuing to focus on satisfying them.